Accounts under our management outperformed their benchmarks for the three months ended June 30, 2018. On the equity side, stock selection added value through concentrations in internet retailing, social media, and software. At the sector level, value was added in Energy but Financials detracted from relative performance. Balanced account performance was further enhanced by outperformance within fixed income.
Well, after much fear and loathing, we officially entered a trade war on July 6 when the United States imposed tariffs on $34 billion worth of Chinese imports. The Chinese government almost immediately responded by placing tariffs on an equivalent amount of U.S. goods. How did U.S. equities respond? The S&P 500 rallied by about a percent after the announcements. This may seem counterintuitive until one remembers that financial markets are anticipatory by nature and this news was well telegraphed.
Make no mistake. The tariffs so far announced will retard economic growth directly and indirectly. Just look at the fifteen percent drop in the price of copper, often referred to as Dr. Copper for its ability to diagnose global economic conditions. Overseas economies have cooled so say goodbye to synchronous global growth. Emerging market debt and equities have been pressured with Chinese stocks flirting near a twenty percent decline. Domestically, the uncertainty of the situation potentially chills corporate decisions on hiring and capital expenditure while inflation may be goosed by higher import pricing.
So why is the S&P 500 within a few percent of its all-time highs? To first lend some perspective, international trade (imports plus exports) is not a large part of the U.S. domestic economy compared to most countries: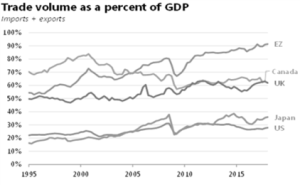 Sources: Evercore ISI, IMF, BEA, Eurostat, CA. Report as of July 13, 2018.
More importantly, there are other factors in play. The U.S. economy, already growing, will be bolstered by over $260 billion of fiscal stimulus in 2018 with $400-plus billion scheduled for next year. Corporate profits are estimated to increase by nearly twenty percent in the second quarter through the combination of robust economic growth, share buybacks, and lower tax rates. In other words, the net effect of tariffs is likely to diminish but not derail economic expansion in the United States.
For readers old enough to remember the 1970 song "War" (What is it good for?), it turns out that trade wars help bond prices. After hitting 3.1% in May, the yield on the 10-year Treasury declined to 2.8%. Interest rates have been in a tug of war with current robust economic activity and rising inflation pulling them up and the fear of fallout from tariffs pulling them down. The net is that today's yield on the 10-year Treasury is no different than early February's levels despite swings of close to 0.4%. However, the uncertainty of an escalation in the trade war is enough to put a ceiling on rates for the near-term. Recognizing that the upside case for net interest margins is put on indefinite hold, we significantly reduced exposure to financials during the past quarter.
The uncertainty has also played a large role in narrowing investors' focus to secular/highly visible growth companies. The top five contributors, all of which demonstrate these characteristics, drove close to 90% of the S&P 500's gains for the first six months of this year. In fact, the top ten contributors accounted for close to 120% of the index's performance. Viewed a little differently, five out of the eleven sectors were down for the first half while eight out of eleven underperformed. That is a narrow market but it could broaden out quickly with any good news on trade or improved economic conditions.
To cut to the chase, we do not know or try to predict the outcome of the trade dispute. Outcomes can range from negotiated settlement to escalation. Timing can range from imminent to well beyond the midterm elections. We do know that the uncertainty has pressured equity valuations down to historic norms.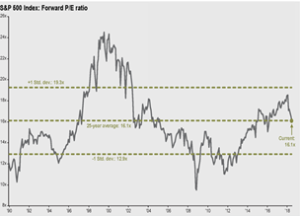 Sources: HSW Advisors, JPMorgan. Report as of July 13, 2018.
With no recession in sight, benign interest rates, and improved equity valuations, we will continue to research the fundamentals of individual stocks. Markets will likely continue to gyrate based on macro-headlines but we like the prospects of the companies that we hold. Earnings season is now upon us, and that is where our focus centers.