Our equity results exceeded a robust stock market (S&P 500 +6.1%) in the first quarter and balanced accounts outperformed their benchmarks as well.  Stock selection largely drove excess returns.  The largest contribution came from an Eastern railroad, an investment which illustrates the concept of "seeing things how they could be".
We purchased the stock in last year's second half after our research suggested that the company's traffic drivers, particularly coal volumes, were approaching trough and that operational metrics (train speed, dwell time) promised room for improvement.  Profit margins were at an industry low but we saw a path higher.  Apparently we were not alone as an activist investor took a sizeable stake and is installing a legendary railroad turnaround executive as the CEO.  Holdings in growth stocks such as added significant value in the quarter.
On the flip side, our investment in the energy sector dragged on recent performance.  Domestic inventories of crude oil built during the quarter as U.S. shale output rebounded and there was little apparent impact from OPEC production cuts.  However, a bit of deeper analysis shows that the constructive case remains intact.  The planned timing of OPEC's and its non-OPEC partners' production cuts, announced November 30, 2016, varied by country and ranged from weeks to months.  In fact, much of the crude oil imported to the U.S. in the first quarter was ordered before the announcement.  Coupled with seasonally slack winter demand, it was not surprising to see inventories increase.  We expect this quarter to be very different as the full impact of production cuts is seen and we enter a period of strong demand created by the driving season.  The next OPEC meeting will be May 25th, and an extension of the cuts will be on the table.   Logic suggests that the lower levels of output will be extended as inventories will not have reached target by then.  Remember, Saudi Arabia is planning to IPO its production company, Aramco, early in 2018 at what is reported to be a trillion dollar capitalization.  That would seem like a fair amount of incentive to keep oil prices stable to higher.  The Kingdom recently reduced Aramco's corporate tax rate to 50% from 85% so they seem serious.
Turning to broader financial markets, the yield on the 10 Year Treasury bond has been in a trading range between 2.3% and 2.6% for the last four months.  The "push-pull" here is that rates are below the level where they historically would be given current economic activity/inflation but the incremental data shows no sign of acceleration.  In fact, recent auto sales and other indicators of consumption have been on the softer side.  Furthermore, the likelihood of stimulus from tax reform was significantly diminished after the recent attempt at healthcare legislation revealed schisms within the Republican Party.  However, there are plenty of positive signs.  Housing activity is robust while jobs and wages continue to expand.  Europe has turned the corner as evidenced by the German 10 Year yields going from negative to positive. Soon to be reported first quarter profits should show significant growth boosted by the energy sector rebounding from last year's losses.
Given conflicting macro currents, we are much more focused on individual companies and select industries than broad sectors (the exception being energy, our largest sector thematic right now.)  Our equity portfolio is pretty well balanced between economically sensitive holdings and classic growth properties.  This past quarter, we took a position in an industrial after research suggested rising orders as demand from the energy and mining segments now appear to approximate replacement levels.  With lean inventories and the company's strong demonstration of cost control throughout the down cycle, incremental margins could be powerful given any normalization of shipments.  We remain committed to our internet properties while recently increasing our holdings in the international space.  Within the Energy sector we added to EOG Resources, a low-cost/high-unit growth property operating in the Permian Basin.  Although still underweighted the defensive sectors, we recently initiated a probe position in an iconic beverage company on the potential of a new CEO invigorating returns through refranchising bottling operations, improving marketing efficiency and reducing costs.  It's early but new management situations can be a fertile source of earnings acceleration as far back as we can remember.
With the stock market off to such a quick start this year, there has been much discussion as to whether it is "overvalued".  We don't think so.  The chart below shows that the S&P 500's earnings yield's (inverse of P/E) spread over corporate bond is roughly at its historic average.  Note the extreme negative level (overvaluation) during the 2009 time period.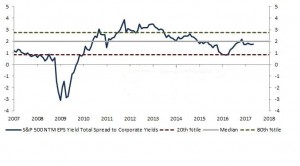 Source: Evercore ISI Report date April 6, 2017.
The take here is that stocks are neither particularly cheap nor expensive compared to bonds so valuation is not the critical variable right now.  A more important issue is whether the economy can gain traction after a somewhat slow first quarter.
Looking forward, we are not expecting a smooth ride but this has been an unloved bull market that has fought fears of deflation, Brexit, and the occasional Twitter bomb.  Let's give it some respect.