In a robust third quarter (S&P 500 +4.5%), our equity and balanced accounts continued their outperformance.  Stock selection again drove excess returns.
A relatively new addition to the portfolio, in the pharma area, also delivered significant gains.  The company's existing products improve lung function in patients diagnosed with cystic fibrosis.  However, the disease is genetic, and current treatment is only efficacious in certain gene mutations.  We purchased the stock after concluding that the company's efforts to develop triple combination therapies would likely succeed in addressing previously untreatable mutations.  Data reported from recent clinical trials supported our thesis, giving a boost to the stock.  The new combinations hold the potential to increase the eligible population by roughly 80%.  This is a classic market expansion story.
Positions in companies subject to deteriorating fundamentals or approaching full valuation were eliminated.  A commercial insurance company was purchased opportunistically on hurricane-related weakness while we also added to the industrial sector.
As emphasized in previous letters, our focus is on individual stocks but the overall portfolio's construct is continually examined.  This year we have utilized a barbell approach.  One end is comprised of growth stocks, largely internet related advertising or retailing franchises.  Current platforms/business models are far from mature.  Additionally, we sense that a new generation of data applications (e.g. artificial intelligence including predictive analytics) is emerging.  We do not pretend to know the timing or magnitude of these opportunities.  To us, the important point is that our holdings are refreshing themselves well before they run out of steam.  There are also valuation implications in the sense that current earnings are understated by spending for these new market opportunities.  While these stocks have had good runs this year, valuation metrics are not frothy relative to anticipated growth.  With the Russell Growth outperforming the Russell Value by 13% through the first nine months of the year, we recognize that growth stocks may be subject to temporary downdrafts in sentiment.  The performance divergence between growth and value may make the other end of our barbell timelier.
This other end is economically sensitive with concentrations in financials and select industrials.  Many have labeled this the "reflation trade" but we view it more as "normalization" in inflation and interest rates.  The world is seeing a synchronized uptick in economic growth.  The United States has trailed lately but the lagged effects of a lower dollar should be kicking in.  As the unemployment rate approaches lows not seen in a decade, we anticipate that wage inflation (missing so far in this seven year economic expansion), will materialize.  This would represent an important pillar in normalization.  The other pillar would be interest rates, and a look beyond domestic conditions is needed.
The U.S. and Germany both grew GDP at slightly over two percent in the second quarter.  However, the 10 Year German Government bond is yielding less that 0.5% while the equivalent U.S. Treasury returns over 2.3%.  We believe that the difference is explained by aggressive European Central Bank (ECB) monetary policy while the Federal Reserve is raising interest rates and gently shrinking its balance sheet.  The ECB will meet in late October and may communicate a tapering in bond purchasing.  Only time will tell; but this may represent an important step for the level of interest rates worldwide.
To complete the picture, the thin part of the barbell represents our underweighting in the consumer staples, utilities, real estate, and telecommunication sectors.  Given low yields and our view of normalization, we approach fixed income markets cautiously.  Interestingly, we hear much more investor angst regarding stocks, whether it is the level of the market or risk from international conflict and domestic politics.  It is said that bull markets end with euphoria so the chart below may comfort your inner contrarian (at least for stocks):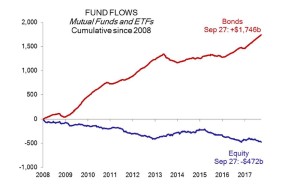 Chart Source: Evercore ISI October 4, 2017
As written before, this has been an unloved bull market. Maybe that is really good news.